I

<3 Change! AICPA Women's Global Leadership Summit: Embracing Change and Celebrating Women

Sarah and Lindsay had an amazing time at the AICPA's leadership conference for women in the profession last week in New York City! As always, this sold-out event did not disappoint. It was an incredible opportunity for over 700 women (and some male leaders, too!) in the profession to connect authentically with one another and explore new possibilities.

During her two break-out sessions, Sarah rocked a custom t-shirt and focused on change from two different perspectives: supporting change in someone else and learning to embrace change for yourself: For a quick overview (and to see the t-shirt!), check out the Facebook Live interview Sarah did with Lindsay Patterson of the AICPA for their Human Intelligence series here and read on for more details.

Supporting Change
You've probably heard a lot about managing change using a traditional approach – focusing on how to push or drive the change process in others and hold them accountable. In this session, Sarah shared a different perspective. She encouraged all attendees (not just the women!) to tap into their feminine leadership strengths (strengths that are often overlooked in the workplace) to support change. Instead of pushing change on others, you can nurture change. We explored how to inspire change in someone and use empathy to encourage their innate capacity for change.

Sarah also talked about the importance of love in supporting change. Love is 100% acceptance of who someone is and a deep appreciation for who they are becoming. When we believe in that bigger version of another person and their capacity to change, we can hold the vision for them, even when they sometimes struggle in believing it for themselves. We give them the opportunity to live into our belief of them.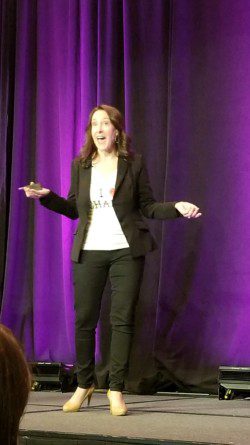 Finally, Sarah walked attendees through the three primary stages of change so they can better understand and respond to where the other person is on their change journey. She also shared some coaching techniques to apply the leadership strengths of love, belief, inspiration and empathy to each of these three stages.
I Heart Change
In this session, Sarah began by sharing how people process change from a physiological, mental and emotional perspective to help attendees recognize this response in themselves. After all – being aware of what's going on, rather than getting lost in it, is what gives us the power to overcome our challenges!
Using real-life change challenges from their own lives, Sarah took participants through some techniques they could apply in the moment to hit the pause button on their stress response to change. She also shared techniques they could tap into throughout their change journey to ground them during times of chaos and set them up for long-term success.
In additional to everyone coming up with their own personal change plan, lots of fun was thrown into the mix, including stickers, tattoos and more dancing (to Taylor Swift this time)!!
Celebrating Women in the Profession
Sarah and Lindsay had a fabulous time hosting a cocktail party to celebrate all the incredible women in the accounting profession! They kicked back and relaxed as they toasted with clients, thought leaders, influencers and innovators in attendance, including some of the Most Powerful Women in Accounting – all of whom help us create a new Dimension of Possible for women in the CPA profession.
Human Intelligence: Interviews with Lindsay
As a member of the AICPA Women's Initiatives Executive Committee, Lindsay had the pleasure of interviewing two conference speakers as part of the AICPA's Human Intelligence series. Check out the two Facebook Live interviews below for a quick dose of wisdom!
"When we believe in that bigger version of another person and their capacity to change, we can hold the vision for them, even when they struggle in believing it for themselves. We give them the opportunity to live into our belief of them."