L

indsay is One of CPA Practice Advisor's 40 Under 40!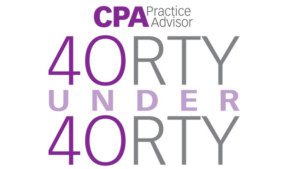 For the second year in a row, Lindsay Stevenson has been named as a CPA Practice Advisor 40 Under 40 Honoree! The 40 Under 40 Awards honor "the top practicing public accountants, educators and thought leaders who are leading their profession by visibly and incrementally changing the accounting profession through their exemplary leadership, their innovative thinking, their collaborative efforts to provide unity to the profession across the generations, and their community outreach which extends the visibility of the profession outside the workplace." Read more about the awards here.
We're so proud to have Lindsay included in this incredible group, and we congratulate and thank each one of these leaders for the impact they make in the accounting profession!
2018 40 Under 40 Honorees:
"Our profession is experiencing a regeneration of purpose and innovation and I am committed to being a part of the effort to blaze a new trail." – Lindsay Stevenson